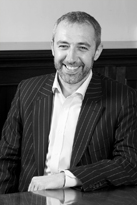 Alun trained as a Collaborative Lawyer in June 2009 and has since then maintained and developed an increasing Collaborative work load. Alun maintains a refreshing and progressive attitude to the complex area of Family Law and is wholly focussed and committed to the resolution of the conflicts and disputes that arise when couples separate.
Alun qualified as a solicitor in London in 1994 and remained working there and practicing exclusively in the specialised area of Matrimonial and Family Law until 2004 when he returned to his native South Wales.
In 2005 Alun set up his own Family Law practice, Alun Jones Family Law, providing specialist and discreet advice, representation and support on all aspects of relationship breakdown. As a Solicitor/Mediator/Collaborative Lawyer Alun maintains a conciliatory but firm approach that guides clients to a satisfactory and amicable outcome thereby ensuring the best interests of the children are preserved.
With over 20 years of legal professional experience and as a member of Resolution since 1999 Alun has extensive experience in dealing with all aspects of family law, particularly finances, dealing regularly with complex issues and representing high net worth individuals.
Alun's practice continues to grow by making the best use of technology to assist in providing clients with the best possible service and advice. Alun is Treasurer of the Collaborative Law in Wales POD. Alun is also a strong advocate of the benefits of the Collaborative Law process to both clients and lawyers alike.
---
Contact Details
029 2002 3222
Alun Jones Family Law Solicitors 8 St Andrews Place Cardiff CF10 3BE