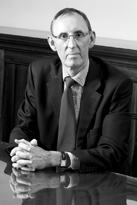 Malcolm qualified in 1977 and has been Head of the Family Law Department at Hugh James for almost 12 years.
He specialises in high net worth financial claims and private law children matters.
The ethos of the Department is to provide support in a professional and sensitive manner and to achieve solutions by negotiation rather than litigation if at all possible.
The Department has the advantage of being able to call upon expertise within the firm in the fields of tax, asset management, employment, trust and corporate law.
Malcolm has been recognised in the 2012 edition of Legal 500 as having "a strong reputation, within the region and beyond, and regularly acts in multi-million pound divorce cases". In the 2011 version he was described as having an "excellent, client-based, focused attitude, and is commercial: a very safe pair of hands". The Department has a top tier rating.
In Chambers UK 2011 Malcolm was described as having clients who have "absolute trust in him because he won't settle for second best".
---