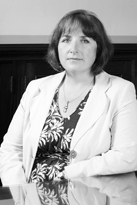 I am a Solicitor, Partner and Head of the Family Department at Rubin Lewis O'Brien. I run a busy department and overseeing 3 Solicitors and various support staff. I deal with all areas of family law including divorce, separation, children and finances and represent clients at court. Matters are often complex involving complicated financial issues which I must readily understand.
I am able to interpret complex personal finances. I am a specialist member of 'Resolution'. I trained as a collaborative lawyer with Resolution in 2011. I also trained as a Mediator and have been a Trustee of a local Women's Group. I also give talks to professionals from various agencies on Domestic Abuse and the legal framework. I have a keen interest in collaborative law. I see it as a further option open to couples attempting to deal with Children and financial issues following family breakdown. It allows them to stay in control of their own futures. I wholeheartedly see its benefits and support its ethos of helping couples to work together with their lawyers to reach agreement without recourse to costly, stressful Court battles. I am committed to minimising the financial and emotional pain of family breakdown.
I studied my Law Degree at Leeds University and then went to Chester Law College. I finished my training at a Cardiff City Centre Law Form. I have been with my current firm since 1993 where I have been a Partner since 1994.
---
Contact Details
01633 867000
Rubin Lewis O'Brien, Gwent House, Gwent Square, Cwmbran, Torfaen NP44 1PL